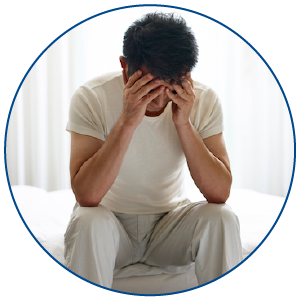 [Symptoms of Infected Men]
Some men who get HPV never develop any symptoms or lead to serious health problems. Patients who are infected with low-risk types (i.e. types 6 and 11) will probably have genital warts. They will feel irritated in the infected area, but this is not a threat to health. For patients who are infected with high-risk types (i.e. types 16, 18), they may have cancers of the penis, anus, or oropharynx3 (back of the throat, including base of the tongue and tonsils.) but this rarely happens.
Below are some of the signs and symptoms for HPV-related diseases:
Low-risk HPV
Genital warts
You may notice small, fleshy growths, bumps or skin changes on the penis, scrotum, urethra, testicles, groin, upper thighs, or in/around the anus.

They can be flat or smooth small bumps or quite large, pink cauliflower-like lumps.

Warts can appear on their own or in groups.

They are usually painless but may occasionally itch and cause some inflammation.

Warts may appear from three weeks to many months or even years after coming into contact with the virus.

They may cause bleeding from the anus or the urethra.
High-risk HPV
Anal cancer
Anal bleeding, pain, itching, or discharge.

Swollen lymph nodes in the anal or groin area.

Changes in bowel habits or the shape of your stool.
Penile cancer
First signs: changes in color, skin thickening, or a build-up of tissue on the penis.

Later signs: a growth or sore on the penis. It is usually painless, but in some cases, the sore may be painful  and bleed.
Cancers of the oropharynx
Sore throat or ear pain that does not go away

Constant coughing

Pain or trouble swallowing or breathing

Weight loss

Hoarseness or voice changes that last more than 2 weeks

Lump or mass in the neck
*People can get infected with high-risk HPV without any symptoms
[Symptoms of Infected Women]
Low-risk HPV
Genital warts
commonly found in vagina, cervix, vulva, penis, anus, rectum or urethra

Less commonly, mother may pass the virus to newborn baby during labor.
Warts in the throat
this is a rare condition called recurrent respiratory papillomatosis, or RRP4. When this occurs in children it is called juvenile-onset RRP (JORRP) and can cause tumor in the throat.
High-risk HPV
Cervical cancer : For women, precancerous cervical lesions will be developed if the high-risk HPV cannot be cleared by the immune system. If the condition worsens, the first stage of Cervical Intraepithelial Neoplasia (CIN1) will be developed in five years, and cervical cancer might eventually be developed.

Other uncommon but serious cancers: vulva, vaginal anal and oropharyngeal cancer (rear throat, meaning the parts nearby the base of the tongue and the tonsils)