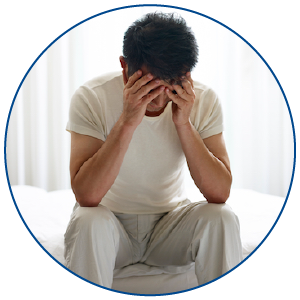 The incubation period for syphilis is normally from 10-90 days (on average 21 days). The signs and symptoms are the same in both men and women. They can be difficult to identify and you might not notice them.
Syphilis can develop into three stages:
The first stage: primary syphilis

The second stage: secondary syphilis

The third or latent stage: tertiary syphilis
First stage syphilis
One or more sores – usually painless – will appear where the bacteria entered the body. On average, this will be 2-3 weeks after coming into contact with syphilis but it can be sooner or later.

These sores can appear anywhere on the body. In men, they appear mainly around the opening of the urethra, on the penis and foreskin, and around the anus.

Less commonly, in men and women, sores may appear in the mouth, and on the lips, tonsils, fingers or buttocks.

The sores of first stage syphilis are very infectious and may take 2-6 weeks to heal. By this time, the bacteria will have spread to other parts of the body and it will then be known as second stage syphilis.
Second stage syphilis
If the infection remains untreated the second stage usually occurs some weeks after any sores have appeared and healed. Syphilis is still infectious at this stage and can be passed on to someone else.
The symptoms include:
A painless rash that is not normally itchy. It can spread all over the body, or appear in patches, but it is often seen on the palms of the hands and soles of the feet.

Flat, warty-looking growths on the vulva in women and around the anus in both men and women (often mistaken for genital warts).

A flu-like illness, tiredness and loss of appetite, with swollen glands (this can last for weeks or months).

White patches on the tongue or roof of the mouth.

Patchy hair loss.

These symptoms will gradually go away and tertiary syphilis will be developed.
Third (latent) and advanced stage syphilis
When syphilis remains untreated it goes into another phase known as third stage or latent syphilis. At this stage, the patient's ability to spread the virus will be gradually weakened, but the virus can remain in patient's body for many years without showing any signs or symptoms. If treatment is continuously absent, advanced stage syphilis will be developed after 3 to 7 years (or after decades). The virus may cause very serious and permanent damage to the heart, brain, eyes, other internal organs, bones and nervous system. At this stage, syphilis can lead to death. The most common lesion at this stage is gummatous syphilis, which are developed on the skin, bones, brain or inflammatory nodules in other parts of the body2. If developed in the eyes, visual loss is normally resulted in3. At this stage, syphilis could only be diagnosed through blood test.
Reference:
http://www.chp.gov.hk/tc/content/9/24/1607.html#31
http://hospital.kingnet.com.tw/library/diagnose.html?lid=3398
http://www.fpa.org.uk/helpandadvice/sexuallytransmittedinfectionsstis/syphilis